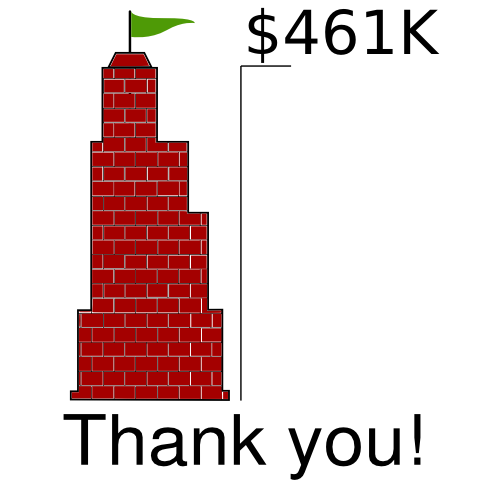 Hello Pascal,
Every winter, we launch a fundraiser to sustain our work for the coming year. This time, we set out to raise $450,000, our highest goal ever. And because so many of you chipped in, we were able to reach it.
Thank you! We really appreciate it, and we'll be sure to put your hard-earned money to good use. We've got big plans for 2014, including:
Spearheading the free software movement's resistance against the Surveillance-Industrial Complex, recruiting skilled developers to the cause, and developing a guide to help new people get started with free software privacy tools.

Running the biggest, best, and most diverse LibrePlanet conference yet. If you're one of the 388 people that joined as members during the fundraiser, remember that you can attend gratis!

Expanding our work defending GPL-licensed software, bringing on more volunteers to expand capacity. The Licensing & Compliance Team will also add new exciting products to our Respects Your Freedom hardware certification program.

Continuing to nurture the GNU System, so that it can remain a beacon of free software for another thirty years.
Because of your contributions of time, skills, and money, we're ready to make these big goals happen in 2014.
Thanks again from all of us:
Chrissie, Donald, Jasimin, Jeanne, John, Joshua, Libby, Lisa, Nico, William, Zak and, of course, Richard.
P.S. - A special additional thank you to those of you that have embedded our widget on your Web sites and blogs -- you amplify our reach tremendously.
--
Follow us at
https://status.fsf.org/fsf
| Subscribe to our blogs via RSS at
https://fsf.org/blogs/RSS
Join us as an associate member at
https://fsf.org/jf
Sent from the Free Software Foundation,
51 Franklin Street




Fifth Floor




Boston

,

MA

02110-1335




United States
You can unsubscribe to this mailing-list by visiting the link https://crm.fsf.org/civicrm/mailing/unsubscribe?reset=1&jid=129406&qid=6807541&h=fe60fdb50be60cf9.
To stop all email from the Free Software Foundation, including Defective by Design,
and the Free Software Supporter newsletter, click this link:
https://crm.fsf.org/civicrm/mailing/optout?reset=1&jid=129406&qid=6807541&h=fe60fdb50be60cf9.