Read the web version of this press release.
Gnu comes bearing gifts, draws shoppers from Microsoft store
Boston, Massachusetts, USA -- Thursday, December 20th, 2012 -- Today, FSF activists visited a local Microsoft store during its "Tech for Tots" session to wish passersby happy holidays with copies of the Trisquel GNU/Linux operating system, a free software replacement for Windows 8. The activists were accompanied by a gnu (free software's buffalo-like mascot) and sported Santa hats in the spirit of the season. Their action drew smiles from mall-goers who had expected to see costumed people giving gifts, but not quite like this.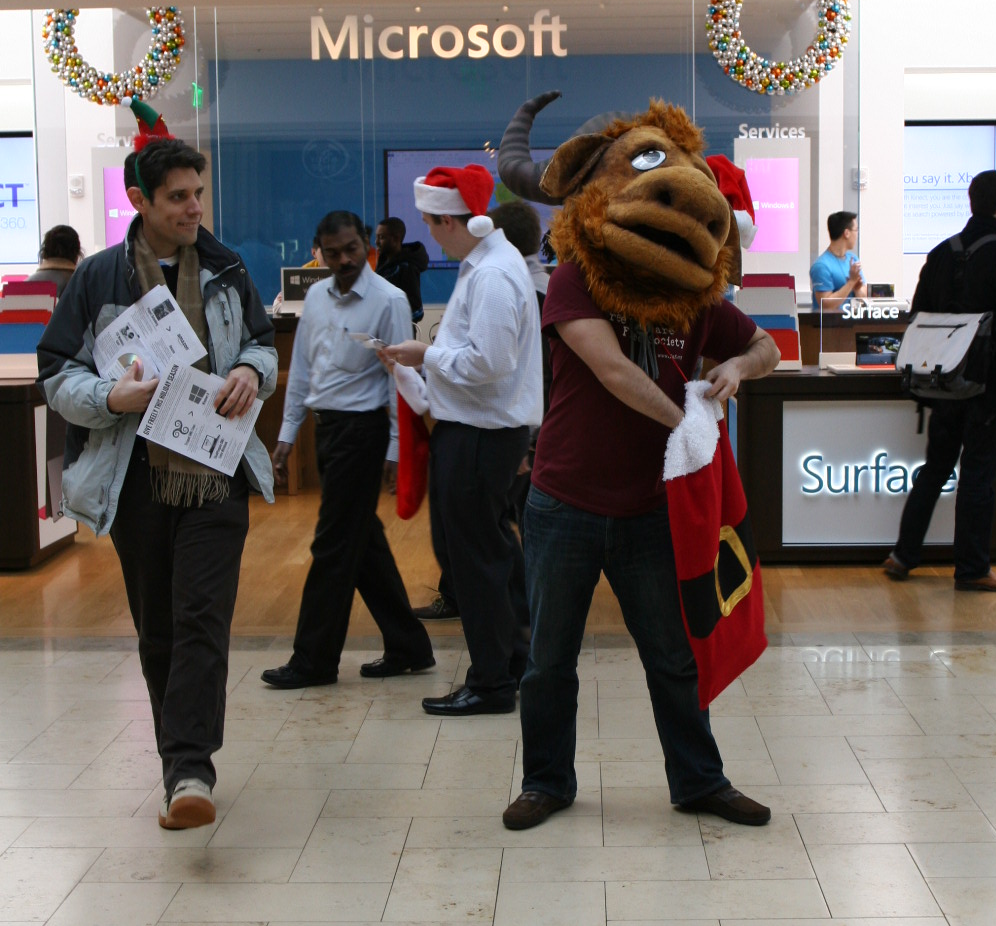 On its campaign site, http://fsf.org/windows8, the FSF criticizes Windows 8 for restricting computer users' freedom to modify and share the software on their computers. This action follows a similar one at a Windows 8 launch event in October, when the FSF made international news announcing its campaign to ask computer users to skip Windows 8 in favor of free software.
FSF executive director John Sullivan said, "Tablets and laptops are popular gifts for the holidays, but people often overlook the restrictions that manufacturers slip under the wrapping paper. These restrictions end up locking people into one company's products, and complicating things that should be simple like moving programs from an old laptop to a new one. We invite people to join us by going to http://fsf.org/windows8 and signing the pledge to switch to a free operating system. If you already use one, help a friend or family member switch."
The Prudential Center's Microsoft store is one of many that Microsoft has opened in recent months to promote Windows 8 and its new line of tablets. The aggressive Windows 8 marketing campaign is rumored to cost more than a billion dollars. Windows 8 has drawn criticism for its difficult interface and for being more restrictive than previous versions of the OS. In fact, many of Microsoft's Windows 8 devices have crippled firmware that prevents them from running free operating systems, even alongside Windows.
Along with the free GNU/Linux operating system, holiday shoppers received a copy of the FSF's holiday giving guide. The guide, online at http://fsf.org/givingguide, compares widely known but restrictive tech products with replacements that give users more freedom.
Today's action ended when Prudential Center security arrived on the scene. FSF campaigns manager Zak Rogoff said: "We were prepared for the Microsoft store to ask us to leave. Our Windows 8 campaign is reminding Microsoft that many software users do care about their rights to run a free 'as in freedom' operating system, and will not tolerate digital handcuffs. Microsoft's business model is predicated on these handcuffs, so they don't like what we're doing. If more people knew that free software was an option and had a chance to try it, this store would have a different logo over the door."
The FSF asks supporters to keep their eyes peeled for more appearances by the gnu in coming months. The FSF also expects to release a whitepaper formalizing its critique of Windows 8, as well as a new campaign Web site dedicated to Windows 8.
About the Free Software Foundation
The Free Software Foundation, founded in 1985, is dedicated to promoting computer users' right to use, study, copy, modify, and redistribute computer programs. The FSF promotes the development and use of free (as in freedom) software -- particularly the GNU operating system and its GNU/Linux variants -- and free documentation for free software. The FSF also helps to spread awareness of the ethical and political issues of freedom in the use of software, and its Web sites, located at fsf.org and gnu.org, are an important source of information about GNU/Linux. Donations to support the FSF's work can be made at http://donate.fsf.org. Its headquarters are in Boston, MA, USA.
About Free Software and Open Source
The free software movement's goal is freedom for computer users. Some, especially corporations, advocate a different viewpoint, known as "open source," which cites only practical goals such as making software powerful and reliable, focuses on development models, and avoids discussion of ethics and freedom. These two viewpoints are different at the deepest level. For more explanation, see http://www.gnu.org/philosophy/open-source-misses-the-point.html.
About the GNU Operating System and Linux
Richard Stallman announced in September 1983 the plan to develop a free software Unix-like operating system called GNU. GNU is the only operating system developed specifically for the sake of users' freedom. See http://www.gnu.org/gnu/the-gnu-project.html.
In 1992, the essential components of GNU were complete, except for one, the kernel. When in 1992 the kernel Linux was re-released under the GNU GPL, making it free software, the combination of GNU and Linux formed a complete free operating system, which made it possible for the first time to run a PC without non-free software. This combination is the GNU/Linux system. For more explanation, see http://www.gnu.org/gnu/gnu-linux-faq.html.
Media Contacts
Zak Rogoff and Libby Reinish
Campaigns Managers
Free Software Foundation
+1 (617) 542 5942
campaigns@fsf.org
--
Follow us at
https://status.fsf.org/fsf
| Subscribe to our blogs via RSS at
http://fsf.org/blogs/RSS
Join us as an associate member at
http://fsf.org/jf
Make sure we have your correct location information — please do not forward this email with this link intact.
Sent from the Free Software Foundation,
51 Franklin Street




Fifth Floor




Boston

,

MA

02110-1335




United States
You can unsubscribe to this mailing-list by visiting the link https://crm.fsf.org/index.php?q=civicrm/mailing/unsubscribe&reset=1&jid=126984&qid=3202884&h=d7deb8f78f59a207.
To stop all email from the Free Software Foundation, including Defective by Design,
and the Free Software Supporter newsletter, click this link:
https://crm.fsf.org/index.php?q=civicrm/mailing/optout&reset=1&jid=126984&qid=3202884&h=d7deb8f78f59a207.